Middle East & Arab World in 2013 – 2014
(The Economist) A tale of two regions in 2014
Since the onset of the Arab Spring, the Middle East and North Africa has been divided, perhaps more starkly than normal, into the "haves" and "have nots". Political unrest and war have had a detrimental impact on economic performances in some countries. More stable states—also typically oil-rich—have boomed on the back of fiscal stimulus and high oil prices. Yet in 2014 this trend should start to unwind. The oil-rich "haves", which have sought to mute political dissent through fiscal largesse, will have to tighten their belts and rethink costly subsidies as oil prices soften. Meanwhile, North African "have nots" such as Morocco, Egypt, Tunisia and Algeria will start to benefit from better growth in the euro zone. But recovery will not be easy, and as ever political risks will loom large.
The jihadists may have gone too far
(The Economist) From Baghdad to Beirut, a growing backlash against the most extreme of the jihadists may change the course of civil wars in Syria and Iraq
IN A region of opaque politics and oddly named actors, the Islamic State of Iraq and al-Sham (ISIS) lives up to its title. The group that started as an al-Qaeda affiliate in Iraq has prospered there since the Americans left in 2011, subduing much of the rural, Sunni-dominated north and pursuing an aggressive terror campaign against Shias further south. ISIS expanded into Syria in April last year; al-Sham denotes a Greater Syria encompassing—among swathes of what was the fertile crescent—Lebanon, Palestine and even Jordan. Better armed and financed, it has encroached steadily into areas freed from government control by other rebel groups, enforcing harsh, state-like authority along the Euphrates valley and across much of the north. But the group's rapid rise may now be over.
Today ISIS's fighters, who include as many as 7,000 would-be jihadists from across the globe, face battles on three fronts. In Syria a wave of disgruntlement with the group turned into a tsunami after December 31st when its men returned the torture-marked corpse of a doctor-cum-commander with Ahrar al-Sham, a Salafist rebel group which had hitherto been an ally. A final provocation came when ISIS abducted five employees of Médecins Sans Frontières, a French-founded charity that is one of the few aid organisations still willing to work inside Syria.
Since then, rebels of all stripes, including al-Qaeda's slightly milder Syrian affiliate, Jabhat al-Nusra, other Islamist brigades and moderate Western-backed groups known as the Free Syrian Army, have joined forces, rapidly sweeping ISIS from strongholds across a swathe of northern Syria. In Raqqa, the biggest town wholly controlled by the opposition, most recently by ISIS, its fighters are now said to be holding out in a single building. The group is also said to have lost all but one of the border crossings to Turkey it once held, as well as its headquarters in the rebel-held half of Aleppo, Syria's biggest city.

ISIS is also under fire in neighbouring Iraq. Exploiting the simmering resentment among minority Sunnis in the country's north and west against the Shia-dominated Iraqi government in Baghdad, ISIS on January 3rd seized parts of Falluja and Ramadi, the main cities of Anbar province, which abuts Syria (see our map). But this bold move may have played into the hands of Iraq's prime minister, Nuri al-Maliki.
Despite a year of unrest in Sunni areas and an intensified campaign of al-Qaeda bombs, Mr Maliki has shied so far from sending his Shia-dominated army into full-on combat. Now he has an excuse, as well as support from America which has promised to speed up its arms supplies, and also from remnants of the Sahwa, or awakening, a movement of Sunni tribesmen who turned against al-Qaeda to fight alongside the Americans in 2008. In anticipation of an army assault on Falluja, some 13,000 families have fled the city, says the Iraqi Red Crescent.
ISIS may have spread itself too thin by moving fighters from Syria to Iraq. Yet, if some reports prove credible, the group has opened a third Levantine front—in Lebanon.
8 January
Robert Fisk: Now it's Middle Eastern Regimes Fighting al-Qa'ida, While the US Ties Itself Up in Knots
This is "Arab unity" as we have never seen it before. But watch out
And so, for the first time in recent history, it seems that the "war against terror" – and specifically against al-Qa'ida – is being fought by Middle East regimes rather than their foreign investors.
Sure, American drones still smash into al-Qa'ida operatives, wedding parties and innocent homes in Pakistan. But it's General al-Sisi of Egypt, President Bashar al-Assad of Syria, Prime Minister Nouri al-Maliki of Iraq, President Hassan Rouhani of Iran – even powerless President Michel Sleiman of Lebanon – who are now fighting "terrorists".
It shows how powerful the bad guys have become that mutually antagonistic dictators and satraps can gang together against America's enemy. This is "Arab unity" as we have never seen it before. The Ottoman Empire lives again. But watch out.
You need to put on a tin hat to avoid the ironies crashing out of the sky. John Kerry – now the most outrageously funny Secretary of State in US history, he who promised an "unbelievably small" airstrike against Syria – says America supports the secular rebels against Assad, who are fighting the Islamist rebels who are fighting against Assad even though the US still wants the overthrow of – you guessed it – Bashar al-Assad.
Meanwhile the Saudis are still pouring money into Syria to help the al-Qa'ida-associated Islamic State of Iraq and the Levant (Isil) – against whom Bashar and the secular Free Syrian Army are now fighting – while the Saudis also contribute billions to Sisi's army in Egypt which is fighting identical al-Qa'ida-linked "terror" in Sinai and now, it appears, in Cairo itself. And if you are confused by all this, try Lebanon.
2013
3 October
Op-Ed: There is no single Islamic culture
Just as Christians are severed into countless sects and denominations, so are Muslims. In the same way that Catholics and Protestants differ and vary in some fundamental beliefs, so we shall find among the Muslims of the world.
A denomination is a group within a religion. Muslims are thousands of denominations, drastically varying in their beliefs and rituals. From unrelenting, unforgiving Qaramitah, who issue the death penalty to anyone for committing the smallest of sins, and condemning them to eternal damnation in the afterlife, to extremely liberal and forgiving Murji'ah, who say no sin is too big and everything can be forgiven. And from Ultraconservative Salafis who are extremely literal in their reading of scripture, to Batini Isma'ilis who seek out the hidden sub-meanings of scripture.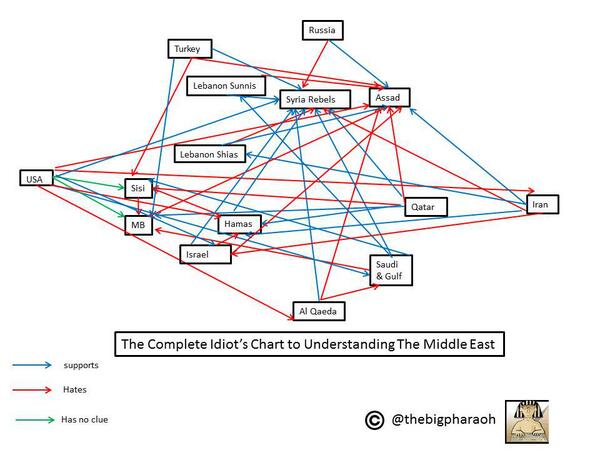 Stratfor: Dealing with the Shia-Sunni Divide
Scrambling to rally domestic and foreign support, the United States is finding itself disconnected from its key regional allies: Saudi Arabia and Turkey.
The United States wants to weaken the Syrian regime, Saudi Arabia wants to topple the Alawite government, and Turkey is still trying to decide what it cares about most. While the United States and Turkey fear creating a vacuum for jihadists, Saudi Arabia welcomes the undermining effect a vacuum would have on Iranian regional influence.
Unlike Turkey, Saudi Arabia does not share a border with Syria, so jihadists are a comfortable tool to be used against the Iranians and their Arab Shia allies. Both Saudi Arabia and Turkey will try to bolster their preferred rebel factions in pursuit of regional dominance, but the United States has the final word on the future of the Syrian regime. (5 September)
What does a 'two-state solution' mean?
By Reuven Brenner
It is not clear with whom to then even negotiate or about what, since nothing would be enforceable. What type of "state" is anyone talking about? What can one negotiate about, when one side cannot enforce anything? It is not even clear whether there is such a thing as a "Palestinian tribe": There appear four rather distinct ones, with only one represented in the negotiation.
(Asia Times) In light of what is going on the Middle East, and the efforts of US Secretary of State John Kerry to restart negotiations to reach a "two-state" solution to the Israel-Palestinian conflict, it is worth briefly summarizing solutions I write about 30 years ago. (See also Unsettled civilizations: How the US can handle Iraq, Asia Times Online, June 23, 2004).
The efforts of the United States and Europe to bring about a "two-state" solution in the Middle East are incomprehensible.
A stable "state" must have one army – in Israel, that was Ben-Gurion's, the country's first prime minister – correct – and painfully delivered message when firing on Altalena in June 1948. He ordered the newly created Israel Defence Forces (IDF) to fire on the ship by that name, when fractions of the Irgun, a para-military organization, were unwilling to put down the arms and be absorbed into the IDF. Following that painful episode in Israel's history – the idea of Jews shooting Jews few years after 6 million perished still shocks – the fractions of the Irgun put down the arms. The new state's monopoly on force has not been challenged since.
Somehow this lesson has not sunk in elsewhere, the spread of failing states around the world notwithstanding: and they began failing when, rationalized one way or another, states started to tolerate military groups within their borders, in the Middle East in particular. At one time it was Jordan for a while (until the king's army pushed out Fattah), Lebanon, and now Syria – to name just two.
Robert Landori: DEMOCRACY AND ISLAMIC LAW
The original schools of Islamic jurisprudence, which arose in the wake of the Prophet's reign in Medina, permitted jurists to adapt the law to the changing needs of society, by a process of reflection known as ijtihad, or effort. Trying to introduce Sharia today therefore runs the risk of imposing on people a system of law designed for the government of a long since vanished community and unable to adapt to the changing circumstances of human life. Secular law adapts, religious law merely endures.
Should a nation be defined by language and territory, by ruling party or by faith, asks Roger Scruton in a most interesting article that appeared recently in BBC's News Magazine. He is a writer and philosopher whose views coincide very much with my own.
… The result of imposing national boundaries on people who define themselves in religious terms is the kind of chaos we have witnessed in Iraq, where Sunni and Shia fight for dominance, or the even greater chaos that we now witness in Syria, where a minority Islamic sect, the Alawites, has maintained a monopoly of social power since the rise of the Assad family. (29 August)
Western media reinforces stereotypes by reducing a complex set of causes to the rage into an amorphous mass.
(Al Jazeera) The media should instead pay more attention to individual states, conflicts and leaders, since dictatorship and factionalism have been as essential in shaping politics in Muslim-majority regions as has religion. The current crisis demonstrates how corrupt parties use religion as an incitement to violence and a means to political gain. The Western media should not play party to their prejudices.
What is the difference between Sunni and Shia Muslims?
(The Economist) CLASHES between Islam's two big sects, the Sunni and the Shia, take place across the Muslim world. In the Middle East a potent mix of religion and politics has sharpened the divide between Iran's Shia government and the Gulf states, which have Sunni governments. Last year a report by the Pew Research Centre, a think tank, found 40% of Sunnis do not consider Shia to be proper Muslims. So what exactly divides Sunni and Shia Islam and how deep does the rift go?
The argument dates back to the death in 632 of Islam's founder, the Prophet Muhammad. Tribal Arabs who followed him were split over who should inherit what was both a political and a religious office. The majority, who would go on to become known as the Sunnis, and today make up 80% of Muslims, backed Abu Bakr, a friend of the Prophet and father of his wife Aisha. Others thought Muhammad's kin the rightful successors. They claimed the Prophet had anointed Ali, his cousin and son-in-law—they became known as the Shia, a contraction of "shiaat Ali", the partisans of Ali. …
while Sunnis rely heavily on the practice of the Prophet and his teachings (the "sunna"), the Shia see their ayatollahs as reflections of God on earth. This has led Sunnis to accuse Shia of heresy, while Shia point out that Sunni dogmatism has led to extremist sects such as the puritanical Wahhabis. (28 May 2013)
The Taliban Is Not Al Qaeda
(The Nation) … although the two organizations have ties, they are separate and distinct groups with different constituencies and different goals. And while it's not possible to talk to Al Qaeda, talking and negotiating with the Taliban is eminently possible. Unfortunately, [Felix Kuehn] says, despite increasing reports that both the United States and the Afghan government want to open a dialogue with the Taliban, Kuehn says, "I do not see a serious approach by either the Afghan government or the international community."
For at least three years, Kuehn and Alex Strick van Linschoten have lived and worked in Kandahar, where they've studied the two organizations, lived with Kandahar citizens, and met people of all political persuasions there, including Taliban commanders. Kuehn points out that the Taliban and Al Qaeda adhere to different strains of Islamic thought, the Taliban associated with Saudi-influenced, Wahhabi-style Hanafi beliefs, and Al Qaeda associated with the more radical, more rigid Hanbali school. The Taliban, of course, are Afghans, and Al Qaeda mostly Arab and almost entirely non-Afghan. Generationally, they are different, too, with most Al Qaeda leaders older than the young commanders of the Taliban, and whereas many Al Qaeda people are professionals and well educated, the Taliban are rural, unschooled, and grew up in places like Kandahar where newspapers were nonexistent and even radios were in the hands of only a privileged few. (16 May 2013)
Karbala: history's long shadow
(BBC) Just like Bethlehem and Nazareth for Christians, Karbala is one of those places Muslim children hear about from when they are very young.
For many it takes on a mythical, unreachable status. … [The] battle of Karbala, in the 7th Century, in which [the grandson of the Prophet Muhammad] Hussein was killed, is often cited as the moment Shia and Sunni Muslims were cleaved apart. (25 May 2013)
Thomas Friedman: The Scary Hidden Stressor
(NYT) IN her introduction to a compelling new study, "The Arab Spring and Climate Change," released Thursday, the Princeton scholar Anne-Marie Slaughter notes that crime shows often rely on the concept of a "stressor." A stressor, she explains, is a "sudden change in circumstances or environment that interacts with a complicated psychological profile in a way that leads a previously quiescent person to become violent." The stressor is never the only explanation for the crime, but it is inevitably an important factor in a complex set of variables that lead to a disaster. "The Arab Spring and Climate Change" doesn't claim that climate change caused the recent wave of Arab revolutions, but, taken together, the essays make a strong case that the interplay between climate change, food prices (particularly wheat) and politics is a hidden stressor that helped to fuel the revolutions and will continue to make consolidating them into stable democracies much more difficult. (2 March 2013)
(CBC) The Turning Point - The panel explores the increasingly bleak situation across the wider Middle East. Part I and Part II (11 June 2013)
28 August
Michael J. Koplow: First They Came for the Islamists — Egypt's Tunisian Future
(Foreign Affairs) An Islamist political party does well at the polls, and an authoritarian regime goes after it with a vengeance, killing its activists and arresting its leaders. The party is driven underground while secularists and other political groups applaud the government's harsh measures, all taken in the name of eliminating a terrorist threat. Meanwhile, the regime and the non-Islamist parties assure the world that once the Islamists have been dealt with, the regular political process will resume again.
So it has happened in Egypt, but it is also the story of Tunisia in the late 1980s and early 1990s, when hopes for a democratic transition were smashed after a campaign of repression that first targeted Islamists but eventually grew into a much wider effort to eliminate all political opposition. Tunisia's experience offers a glimpse of what may be yet to come in Egypt — and suggests that Egyptian secularists should think twice before supporting the army's efforts to eradicate the Muslim Brotherhood.
Just after the election, The New York Times declared, "Tunisia is undergoing a transition from a one-man dictatorship to a much more open society with a sleight of hand that could furnish lessons for Mikhail S. Gorbachev, the Soviet leader." The article went on to quote the head of the Tunisian League for the Defense of Human Rights saying, "I am absolutely certain of Ben Ali's good will."
As it turned out, though, the prospect of a strong Islamist opposition, and especially of an Islamist government at some point down the road, was too much for Ben Ali and the Tunisian state to bear. The government launched a brutal crackdown, killing 1,000 Islamists, jailing another 30,000, and forcing into exile the leader of Ennahda, Rachid al-Ghannouchi. The regime justified its actions by claiming that the Islamists were terrorists out to sow discord and tear Tunisia apart. Only because of the national security threat that they presented, Ben Ali argued, were the Islamists being targeted.
Even as the government's campaign against Islamists turned violent and repressive, Tunisia's secular opposition parties cheered it on. … The twist is that once Ben Ali finished with the Islamists, he trained his sights on the rest of the opposition as well. Even if his crackdown initially stemmed from a legitimate ideological fear of Islamism, once he started down the authoritarian path, it was only a short skip and a jump to viewing all political opponents as enemies. In early 1992, the government shut down secular newspapers and magazines, imprisoned liberal journalists, and passed a new law of associations that curtailed the actions of human rights groups.
15 July
Qatar's foreign policy — Change of tack
(The Economist)EVER the astute investor, Qatar is beginning to worry about throwing good money after bad. The tiny but mega-rich emirate had poured $8 billion in Egypt since the revolution two-and-a-half years ago and perhaps another $9 billion to bankroll Islamists in Libya, Syria and Gaza, the Palestinian enclave run by Hamas, an offshoot of the Muslim Brotherhood. But from Qatar's point of view these places suddenly, since the fall of Egypt's Islamist president, Muhammad Morsi, no longer look like the winning horses they once did. Loathe to see more money go to waste, Qataris now speak of a new mood of pragmatism among their leaders. Words like "reassessment", "recalibration" and "corrections" pepper Qataris' discussion of their foreign policy.
A change at the top has facilitated the debate.
25 June
Qatar: 12 things you need to know
(The Guardian) Not only does the emirate have a new emir, it has money – and gas – to burn. We're going to hear a lot more about this country in the coming decades. In the meantime, here are some starters
Eighteen years after he deposed his father in a bloodless coup, Sheikh Hamad bin Khalifa al Thani, the emir of Qatar, has announced that he will now depose himself. The new emir, to nobody's surprise, will be his own son, Sheikh Tamim bin Khalifa al Thani. At 33, he is young enough to see in 200 years of the Al Thani family's dominion over Qatar, which they have ruled without interruption since the mid-19th century. Here's the rest of what you need to know about the only country in the world that begins with Q.
1 It is very, very, very rich
10 They own everything — In London alone, it owns Harrods, the Shard, the Chelsea Barracks site, the US embassy and the Olympic village site, among many others. It is also the largest shareholder in Sainsbury's, with just over a quarter of the business. And it co-owns Miramax Films after purchasing it from Disney with a group of other investors. (Al Jazeera) Qataris praise smooth transition
16 June
Iran to send 4,000 troops to aid President Assad forces in Syria
World Exclusive: US urges UK and France to join in supplying arms to Syrian rebels as MPs fear that UK will be drawn into growing conflict
Washington's decision to arm Syria's Sunni Muslim rebels has plunged America into the great Sunni-Shia conflict of the Islamic Middle East, entering a struggle that now dwarfs the Arab revolutions which overthrew dictatorships across the region.
For the first time, all of America's 'friends' in the region are Sunni Muslims and all of its enemies are Shiites. Breaking all President Barack Obama's rules of disengagement, the US is now fully engaged on the side of armed groups which include the most extreme Sunni Islamist movements in the Middle East.
11 June
Largest navy drill in Gulf 'highly successful'
Maritime security, infrastructure protection included in war games
(Gulf News) A major international navy drill, the largest of its kind in the Gulf, has been hailed as highly successful.
The International Mine Countermeasures Exercise 2013 (IMCMEX 13) that brought together more than 40 nations concluded at US Naval Forces Central Command in the Bahraini capital Manama on Thursday after two weeks of seminars and training operations in a wide spectrum of defensive operations designed to protect international commerce and trade.
Over 6,500 service members, 35 ships, and three Task Forces operated the length of the Gulf, through the Strait of Hormuz, and into the Gulf of Oman.
23 May
Troublemaking Powerful Women of the Middle East: What Gives With Their Nonviolence?
(MarcGopin.com) I think it is interesting that in just a few days we heard from the daughter of Emir of Qatar that MENA radical intervention into Syria was turning into a ruination of a legitimate struggle because of the violence and barbarism of the religious extremists. Then we heard from the daughter of Khomeini, father of the Iranian Revolution, that the current leaders may be ruining the revolution and replacing it with a dictatorship. What's up with the new daughters of MENA? These women are not radicalized hippie eighteen year old children of farmers from the countryside. They are from the top elite of each country's leadership. What gives with these women's preference for nonviolence? Could this be a kindler, gentler effect of the Arab Spring? Or perhaps the culmination of longer processes at work?
9 May
Western hostages freed in Yemen after Oman pays ransom
Finnish couple and an Austrian man were taken hostage in capital Sana'a in December 2012
(The Guardian) The source told Reuters the trio were freed on Wednesday night after an intervention by authorities in neighbouring Oman. "The Omani authorities led mediation efforts and paid a ransom to free the Austrian and Finnish hostages," the source said. "They were handed over to the Omani authorities." He declined to specify the ransom amount.
[Background] 22 December 2012
Kidnappings of foreigners on rise in Yemen
Capture of an Austrian man and Finnish couple highlight security dangers in capital city of the strife-torn country
The kidnap of three foreigners in broad daylight, in one of the busiest and most secure streets in Sana'a, is a sign of the growing lawlessness in Yemen's capital.
An Austrian man and a Finnish couple became on Friday the latest victims of abductions in the strife-torn country. Witnesses said the three were taken by masked gunmen as they made their way to a tailor's shop in central Tahrir Square at about 4pm, during the busy afternoon shopping period.
3 May
David (Jones) War on Terror: History, Scripture Tell Us that Islam Is Not a Religion of Peace
Historically, Islam has been a religion of war. Its swords conquered the Middle East, North Africa, South Asia, and parts of Europe. The much-denounced European "crusades" were not directed at conquest, but rather were counterattacks — efforts to regain locations such as Jerusalem, sacred to Jews and Christians for 2,500 years.
vs
David Kilgour War on terror: Actions of radicals don't symbolize what Islam is all about
Islam is a religion of peace in many parts of the world. The Qur'an contains extracts of violence — as does the Old Testament, by the way — but does not incite violence as its first or only recourse. Patience, self-discipline, and forgiveness are attributes of the vast majority of the world's Muslims. The actions of radicals will never symbolize what Islam is as long as the Prophet's words and the Qur'an are followed properly.
26 April
Christopher M. Davidson: Why the Sheikhs Will Fall
The Gulf monarchies were once thought immune to the uprisings sweeping the Arab world. Not anymore.
(Foreign Policy) The contrast between now and summer 2012, when the British edition of my book After the Sheikhs went to press, could not be starker. Back then, there was little, if any, mainstream discussion outside the Middle East itself of the prospect of serious political unrest in the Gulf monarchies. Academics and policy wonks, at least in the monarchies' Western allies, had for the most part set these states apart as somehow exceptional and aloof from the Arab Spring movements sweeping the region. … By winter 2012, Western media had begun carrying articles foreshadowing either monarchical collapse — or at least some serious impending turbulence. Reports on protests, trials, growing poverty, and cyberspace activism in the Gulf states became commonplace — even leading U.S. think tanks broached the topic of "Revolution in Riyadh."
The international commentariat seemed to have finally become aware of the rising discontent among large swathes of Gulf nationals, and better plugged into regional grassroots campaigns and emerging opposition groups. The world was starting to pay attention to the struggle between the people of the region and their increasingly authoritarian and reactionary elites.
18 April
Middle East: Hope springs eternal for negotiated peace
By David Jones
(Yahoo!News) The Political Science 101 answer is well known: Jerusalem as a shared Israel-Palestinian capital with land swaps in the West Bank preserving the largest Israeli settlements while withdrawing penny-packet Israeli outpost-settlements. But nobody wants an achievable peace badly enough to make the dangerous sacrifices (politicians remember Sadat and Rabin were assassinated). So there will be no peace in this time.
Middle East: Despite obstacles, sustainable peace is feasible
By David Kilgour
(Yahoo!News) Despite obstacles, President Barack Obama's visit to Israel last month offers real hope for a resuscitated and ultimately successful peace negotiation in the Middle East.
There has already been a return to normal relations between Turkey and Israel, thanks to effective diplomacy by prime ministers Erdogan of Turkey and Netanyahu of Israel, urged on by Obama. The best reason for optimism about the wider region is that most affected peoples would benefit strongly from a sustainable peace, including victims of increasing lawlessness in Sinai.
Realism is still needed more than ever, however, and first among the ongoing would-be spoilers of any peace agreement are Hamas, Hezbollah and Iran, and several aspects of Israel itself.
OP-ED: Ian Henderson and Repression in Bahrain: A Forty-Year Legacy
By Emile Nakhleh
(IPS) – Ian Henderson's death announcement Apr. 15 in Bahrain brings to an end the life of a British expatriate who was the architect and supervisor of the harsh internal security policies of the al-Khalifa ruling family since the early days of independence over 40 years ago. … The past two years have clearly shown the regime tactics of fear, intimidation, and terror have failed to silence demands for reform, equality, and democracy in Bahrain. Equally, Henderson's legacy has made Bahrain less secure and the legitimacy of the ruling family and its long-term control of the country more precarious. …
The colonial mentality of the past two centuries, which was brought by the Al-Khalifa family to bolster their rule, no longer works in the 21st century. Like their Arab counterparts, Bahraini youth and pro-democracy advocates have used the new social media and their sheer determination to face down the regime.
10 April
U.S. upgrading Fifth Fleet base despite Shi'ite revolt in Bahrain
(World Tribune) The United States has sustained military programs despite the Iran-backed Shi'ite insurgency in Bahrain.
The Shi'ite revolt, said to be supported by neighboring Iran, has not targeted the U.S. presence in Bahrain, which includes 4,000 personnel. But the sources said the Fifth Fleet, which oversees more than 40 ships in the Gulf, was regarded as an Iranian target should war erupt between Teheran and Washington.
20 March
Galvanised by Arab revolutions, WSF 2013 begins in Tunisia
Honouring the Arab Spring revolutions, this year's World Social Forum is being held in its epicentre, Tunisia
… WSF 2013 started on 26 March and is scheduled to last until 30 March. Sessions are bring held at Tunisia's Al-Manar University and tackle issues of social justice, fair distribution of resources, equality, minority rights, and imperialism, among other issues.
This year's forum is taking place amidst negotiations by Egypt and Tunisia with the IMF in the hope of securing several billion dollars worth of loans. As post-revolution governments continue to adopt economic policies that the forum's participants have always opposed, signified by economic measures that typically accompany IMF facilities, the forum reflects a growing movement against post-revolution Arab governments.
20 March
Jordan's King Abdullah Flames Out in Atlantic Interview
(The Daily Beast) Abdullah knew just how to talk to an American reporter, but what he said could be disastrous for him in the Middle East. Christopher Dickey on the royal F yous the king doled out.
In a long profile based on several conversations Goldberg had with the monarch over the last four months, Abdullah disses other Middle Eastern leaders, dumps on his own spies, disparages his tribal supporters, and puts down his siblings. He's got this vision, you see, of modernity and democracy, and these people around him just don't get it. Or so he says, again and again.
24 January
Dr. Charles G. Cogan — Algeria: The Land of No Quarter
(HuffPost) Algeria, it has often been noted, has escaped the Arab Spring. This is because it had its own, and extremely bloody, Arab Spring throughout the decade of the 1990s. An estimated 200,000 people were killed after the Islamic Armed Group (GIA in the French acronym) rose in rebellion when the Algerian army cancelled the second round of parliamentary elections which the Islamist political party, the Islamic Salvation Front (FIS) seemed likely to win.
Unlike the more recent uprisings in the Arab World, the GIA failed, and the Islamists were driven into southern Algeria and beyond. After renaming itself as the Salafist Armed Group for Preaching and Combat, and then as al Qaeda in the Islamic Maghred (AQIM), these Algerian terrorists, whose ranks were swelled by those of other nationalities, settled into northern Mali, in the so-called Sahel, or savannah, area south of the Sahara, subsisting through a cycle of kidnappings and ransoms of mostly French expatriates, and coexisting with other dissidents, chiefly the Berber-origin Tuaregs, a number of whom had fought under Gaddafi and after his fall moved southward into Mali.
22 January
Understanding Jordan's parliamentary election
(Al Jazeera) Encouraged by uprisings in neighbouring countries, Jordanians have taken to the streets to demand political reforms and a more representative parliament. They want a constitutional monarchy, where the powers of the King become limited, and the Prime Minister is elected as the leader of the largest parliamentary bloc rather than appointed from outside parliament by the monarch.
The opposition's main problem with elections is the electoral law that's been in place since 1993. The law only allows each person to vote for only one candidate. The opposition says that vote usually goes to the candidate running from one's tribe rather than to someone with a solid political platform.
18 January
What to expect from Jordan's elections
(Foreign Policy)  On January 23, Jordanians will return to the polls to elect a new parliament. Among the many questions surrounding these polls, of course, is this: Does it matter? Both the 2007 and 2010 elections were marred by extensive charges of rigging, and each produced a lackluster parliament that was disbanded long before its term was up. …  Yet the Jordanian regime has been emphatic that these elections are different. Jordan is different. In my own meetings with King Abdullah, he has consistently argued that Jordan is carving a unique path through the regional Arab Spring: that it is a case of a regime reforming itself. The regime has emphasized that Jordan is at a key turning point, including a shift toward a truer parliamentary system of governance. In an effort to engage public debate and encourage voter participation, the king has even begun publishing a series of brief political treatises. The latest of these, issued this week, addresses the transition to a more parliamentary government.
14 January
Saudi Royal Family Politics and the Arab Spring
(Foreign Policy) For almost two years, since February 17, 2011, Saudi Arabia's Eastern Province has seen a protest movement inspired by the Arab Spring that called for democracy, dignity, and more rights for Saudi Arabia's disenfranchised Shiite minority. The killing of protesters and the arrest and shooting of key oppositional clerics have spurred three cycles of protests. …
The appointment of a new governor to the Eastern Province … offers the possibility of some political change after two difficult years. But little in the behavior of the Saudi regime suggests that the mindset has fundamentally changed. Security concerns continue to predominate, as does antipathy toward Shiites and activists calling for political reform and a constitutional monarchy. The new governor would do well to work toward a genuinely new start if he hopes to avoid replaying the same old patterns of protest, repression, and frustration.
12 January
OP-ED: The Arab Spring at Two: What Lessons Should We Learn?
(IPS) – As the Arab Spring enters its third year, new Arab democracies and the international community should reflect on several critical lessons from the past two years.
Thinking about these lessons and learning from history, no matter how recent, could help us understand the trajectory for the next stage in Arab politics and regional stability. Some of the key issues raised in the questions below are also highlighted in "Global Trends 2030″, the recent publication of the U.S. National Intelligence Council.
Lesson 1. Domestic turbulence and the struggle for governance resulting from the toppling of dictators could take at least two to three years to abate.
Lesson 2. Understanding complex, diverse Middle Eastern Muslim societies requires policy and intelligence analysts outside the region to acquire deep expertise in the cultural, historical, political, and religious dynamics of Arab societies.
Lesson 3. The emergence of Islamic politics in Egypt, Tunisia, Libya, Yemen, and elsewhere, is fueling a serious conversation about whether Islamic political parties are moderating and whether political pragmatism will in the end trump religious ideology. Arab liberals and secularists and civil rights advocates are rightly concerned about the future trajectory of political Islam and governance in Egypt and elsewhere.
Lesson 4. If Washington remains oblivious to human rights abuses in Arab countries, including those that are close allies of the United States, autocratic repression will continue unchecked. Consequently, we should expect that popular anger at the U.S. perceived hypocrisy and double standard would be directed at American interests and personnel in the region.
Violence rages in Syria, and while the world focuses on the Assad's waning days, human rights abuses continue in other countries. Yet, the Arab Spring has resulted in democratically elected governments in four Arab countries.
The Arab Spring is a work in progress and requires the international community to remain vigilant regarding unlawful regime practices against peaceful protesters.
Lesson 5. As job creation and entrepreneurship will be critical for the success of democratic transition, Arab governments will have to adopt creative economic policies to promote economic growth. Failure to do so will hinder their ability to build modern economies.