Canada 2014-15 — Immigration & citizenship
Syrian Refugees In Canada: McCallum Says 2 More Weeks To Reach 10,000 Target
(HuffPost) Immigration Minister John McCallum said 25,000 Syrian refugees have been identified, as promised, more than 10,000 applications have been full processed, as promised, and the 25,000 Syrians the government committed to bringing to Canada by the end of February will arrive on schedule.
"The only discrepancy is the delay of two weeks in welcoming the first 10,000 refugees to our shores," he said.
"So I think it is up to Canadians to decide whether this two week delay is a matter of utmost importance or whether we should instead focus on welcoming these wonderful new Canadians to our shores."
13 December
Canada's refugee program draws praise around the world
(Globe & Mail) Only a small fraction of Canada's expected Syrian refugees arrived last week, but the fanfare around their welcome prompted a slew of headlines – and policy comparisons – around the world.
To New York Times editors, Prime Minister Justin Trudeau "spoke unmistakably to a broader audience" when he personally greeted refugees stepping off Canada's first government-organized flight, which landed in Toronto late Thursday night. … video of their arrival drew hundreds of thousands of views in Canada and elsewhere. The flights coincided with controversy in the United States after Republican presidential front-runner Donald Trump announced a proposal to ban entry of all Muslims to the country.
11 December

Syrian refugees now in Toronto look forward to 'beautiful future'
Trudeau, Wynne greeted 163 newcomers at Pearson International Airport
Trudeau was joined by the federal ministers of immigration, health and defence, as well as Ontario Premier Kathleen Wynne, local mayors and opposition immigration critics.
After landing in Toronto, the new arrivals were given warm coats, social insurance numbers and health cards after a security and health screening at a special airport terminal renovated for their arrival. After processing, they were bused to an airport hotel to rest.
All of the Syrians who arrived yesterday are sponsored by private groups. Many of those groups had filed the necessary paperwork months ago in order to bring in some of the estimated 4.3 million displaced Syrians.
More than 400 refugees have already arrived on commercial flights since the Liberals took office on Nov. 4.
10 December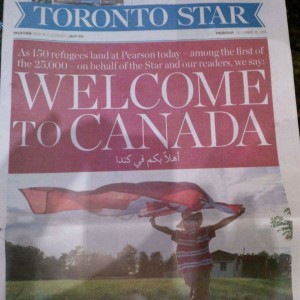 Welcome to Canada, Where the Prime Minister Meets Refugees at the Airport
(Foreign Policy) A young boy runs through a field carrying a Canadian flag, the sun lit behind him as the country's red and white national colors flap in the wind. Above the photo, large text reads, "Welcome to Canada," with the Arabic transliteration below: Ahlan wa sahlan. "Welcome."
This is the cover of Thursday's Toronto Star, Canada's largest-circulation newspaper, as the country prepares to welcome the first tranche of Syrian refugees in the newly elected Liberal government's resettlement program. The front-page photo is accompanied by a heartfelt editorial welcoming the freshly arrived Syrians and briefing them on life in Canada.
Syrian Refugees Arrive In Canada On First Government Aircraft
(HuffPost) "They step off the plane as refugees, but they walk out of this terminal as permanent residents of Canada with social insurance numbers, with health cards and with an opportunity to become full Canadians," Trudeau said."This is something that we are able to do in this country because we define a Canadian not by a skin colour or a language or a religion or a background, but by a shared set of values, aspirations, hopes and dreams that not just Canadians but people around the world share."
4 December
No surprise here: Canada a turnoff for some refugees
Next time we have a months-long national debate about migrants, maybe it shouldn't be about them, but about us – why we still seem so cold and unwelcoming, even to those we want.
… we spend more money keeping newcomers out, and throwing obstacles in the way of their settlement and citizenship, than we do welcoming them. The mean-spirited politics of the past decade, the policies denying health care to asylum seekers and the cruel temporary-worker rules and family-reunification restrictions are well known overseas, and the best-qualified people would rather go elsewhere. We think we're a hot date, but we really need to upgrade our Tinder profile.
Even in Britain, Canada has become a turnoff: We are currently the fourth-most-popular country for British emigration, far behind Australia (which receives twice as many people), the United States and Spain. In fact, it's a net loss: During the past decade, an average of 5,200 British emigrants came here each year, while 8,500 moved the other way. Worse, the British Post Office surveyed British emigrants, and the happiest were those in France, Spain, the United States, Australia and Thailand – Canada didn't make the list.
Syrian refugees reluctant to resettle in Canada immediately, Ottawa says
Canada is finding that many Syrian refugees are reluctant to travel so far afield, a stumbling block as the country works to identify thousands of newcomers to bring here within a matter of months.
Initial efforts in November by the United Nations to find Syrians in refugee camps keen on rapidly relocating thousands of kilometres to Canada as government-sponsored refugees bore relatively little fruit, new figures released by Ottawa show.
Only about 6.3 per cent of refugees contacted indicated they were interested in coming to Canada when the UN got in touch with them between Nov. 18 and 26. This was chiefly in Jordan but also in Lebanon.
The Canadian government … acknowledged many refugees in camps are still hoping they might return to Syria or want to remain in the region.
26 November
Single Syrian men not shut out of refugee stream to Canada, top official says
(CTV News) Instead, the government has made its priority helping the most vulnerable Syrians and its primary aim is to help complete families make the move, Deborah Tunis said.
Tunis disputed reports that single men would be excluded, citing a technical briefing from David Manicom, the assistant deputy minister with Immigration, Refugees and Citizenship Canada.
Manicom, she said, directed that families, women, children and sexual minorities at risk take precedence.
"Those are where priorities are but we haven't said that we're not taking any single men, it's just that those other cases are going to the top of the list," Tunis told The Canadian Press in an interview.
"Single males will be coming as part of this population."
24 November
Canada will take extra time bringing in Syrian refugees in order to 'do it right'
Immigration minister says government will miss year-end target
Families, at-risk women and LGBTQ refugees to receive priority among 25,000
(The Guardian) "This is a happy day and this is an important day for Canada," said the immigration minister, John McCallum, who released details of the plan on Tuesday, saying the country will "welcome them with a smile".
McCallum conceded that only 10,000 refugees will arrive by that date, but said a further 15,000 will reach the country by the end of February, adding that the government was taking the extra time to "do it right".
"A smile alone is not sufficient. We want them to have a roof over their head. We want them to have support," he said.
Canada's announcement stands in contrast to the alarming political rhetoric from politicians in the US, where at least 30 state governors have said they will refuse to accept Syrian refugees, and Republican frontrunner Donald Trump has described those fleeing civil war violence as a potential "Trojan horse" for Islamist militants.
But the Liberal plan has also drawn some criticism after it emerged that single men will – at least initially – only be accepted if they were traveling with their family or could prove that they had been targeted due to their sexual orientation.
The executive director of the Canadian Council of Refugees, Janet Dench, said Tuesday's announcement was "long overdue".
But she said she had misgivings about the exclusion of unaccompanied men, which she suggested reinforced stereotypes about Syrian men as "inherently dangerous".
Analysis: Canada's exclusion of single male refugees may exacerbate Syrian conflict
If reports are correct, the trickle-down effects of Justin Trudeau's decision may force young Syrian men to choose between the lesser of two evils back home
there are good reasons why it might have been better if Trudeau had held his nerve. An unmarried young man may not have a family to support. But he may have been a dissident in Syria – an opponent of both President Bashar al-Assad and his jihadist enemy, the Islamic State. His case should be considered on its merits, rather than being dismissed at the stroke of a pen.
Secondly, by excluding young Syrian men, you risk separating them from their families. An unmarried 19-year-old is technically an adult, and as such would not be eligible for a Canadian welcome. But his parents and young siblings might still qualify.
It remains to be seen how exactly Trudeau's system will work in practice – but it could conceivably see vulnerable teenagers left thousands of miles away from their mother and father. Technically they'd be able to fend for themselves. But in reality they'd have been severed from both their emotional and financial support networks.
Reality hits the Liberal refugee plan
Fewer Syrians will be coming to Canada this year—a sign of reality casting clouds on these sunny days. But the Liberals' refugee plan remains a big push.
Liberals won't meet deadline to bring 25,000 Syrian refugees to Canada by year's end
Government aims to bring 10,000 refugees by Dec. 31, the remainder by March 2016
23 November
Canada's Syrian refugee plan limited to women, children and families
Unaccompanied men not included because of ongoing security concerns
20 November
5 Reasons Why Canada Shouldn't Fear Accepting Syrian Refugees
(HuffPost) The issue of Canada accepting 25,000 Syrian refugees by January 1 has been dominated by questions of security and logistics. Particularly since Friday's gruesome attacks in Paris, and especially since news broke that a Syrian passport (since proven to be fake) was found near the body of one of the suicide bombers, people have expressed understandable concern about how Canada will be able to bring tens of thousands of people from a war zone into the country safely and securely.
I acknowledge that good, well-meaning people who genuinely care about Syrian refugees can have perfectly valid concerns about the security risk of bringing in tens of thousands of people from a war zone. It is as large an undertaking as it sounds.
So, in light of Canadian political leaders (like Saskatchewan Premier Brad Wall and others on the right) playing on Canadians' concerns to spread fear and disinformation, I decided to research how Canada screens, accepts and settles Syrian refugees. It is my hope we can dispel fear and confusion with facts, reason and compassion.
60% of Canadians disagree with Liberal plan to accept Syrian refugees: Ipsos poll
But while the majority of Canadians oppose the federal government's plan, a similar majority (67 per cent) reject the idea of closing the country's borders entirely, while only 33 per cent agree.
Opposition is highest in Alberta with 70 per cent and lowest in Ontario with 56 per cent.
The major concern among those who oppose the Liberal's refugee plan is security and the fear that appropriate security checks will be limited in order to hit Trudeau's timeline.
For those who are concerned about inadequate screening of refugees:
Government-sponsored refugees normally go through these levels of screening:
Step 1: UNHCR makes sure claimants are eligible under the 1951 Refugee Convention. To qualify, they need to have fled their homes and be unable to return due to "serious and indiscriminate threats to life, physical integrity or freedom resulting from generalized violence or events seriously disturbing public order." Anyone who has participated in war crimes or serious non-political crimes is ineligible. As Gisèle Nyembwe, a spokesperson for UNHCR Canada, puts it: "At the registration stage, we try to identify combatants."
Step 2: UNHCR identifies those who are the most vulnerable and in greatest need of resettlement, which typically includes orphans and single mothers and their children. In the United States, about 50 per cent of the roughly 1,800 Syrians admitted this year were children, and around 25 per cent were adults over 60. The number who make it through this screening process is about one per cent. In 2014, UNHCR referred 103,890 refugees out of 14.4 million to the resettlement program.
Step 3: Each person UNHCR considers for referral is individually reviewed by a refugee protection officer, says Peter Showler, who spent three months in Lebanon last year working with UNHCR. Refugee-protection officers are looking for any inconsistencies in claimants' stories.
Step 4: If the refugee-protection officer is content, she will then refer the file to a visa officer in one of the 28 countries that participate in the resettlement program, including Canada. The visa officer then conducts an interview with the claimant. In that interview, there is a focus to ensure the person is not involved in any kind of terrorist activity, according to James Milner, an associate professor at Carleton University and an expert on refugee policy. "After 9/11, they really beefed up the procedures to focus on preventing anyone with terrorist ties from making it through," says Milner.
Step 5: The refugee's file is run against databases maintained by the Canada Border Services Agency, the Canadian Security Intelligence Service, Interpol, and similar databases in allied countries to determine if the person is a threat. The refugee also has to undergo a medical test. In 2014, Canada accepted 7,575 people through the refugee-resettlement program, including 1,450 people from the Middle East and North Africa region, and 1,715 people from the Europe region, which includes Turkey. (Maclean's) How UNHCR's refugee-resettlement process actually works
19 November
From one refugee to another: What you need to know about Canada
Remzi Cej came to Canada in 2000 as a teenager, after fleeing Kosovo with his family. He is a Rhodes scholar and chair of the Newfoundland and Labrador Human Rights Commission.
(Globe & Mail) … As my parents and I settled in a rental apartment when we arrived, we could not have dreamt of the future we would build here of creating a home in the place we only knew by the people we met at its airport on our arrival day, and of having the freedom to travel, study and work in Canada and beyond. By supporting me during my studies and my personal development, this country invested in me as it did for those born here – perhaps receiving that support without distinction was the most pleasant gift of coming to Canada.
While most Canadians are happy you're coming here, your refugee status is making some people distrustful of your identity. Some Canadians may think you are bringing violence with you, and don't see that you are here exactly because you want to escape conflict.
Canada can vet refugees quickly and safely, expert says
(Ottawa Citizen) A respected authority on immigration and refugees says Canada and the United Nations have the operational know-how and security safeguards to safely vet 25,000 Syrians for rapid resettlement.
But the question remains: Can the humanitarian resettlement project be pulled off by the Liberal government's looming Dec. 31 deadline without compromising domestic security?
Peter Showler, former chair of the Immigration and Refugee Board and former director of the Refugee Forum at the University of Ottawa … said, "It is possible in a relatively short period of time – with no reference one way or the other to the deadline – to do fast, effective processing that includes reliable security screening."
Syrian refugees pose low risk, but no reason to rush process, experts say
Hasty approach to meet Dec. 31 deadline could be a mistake, say security experts
Citing the deadly attacks in Paris, Saskatchewan Premier Brad Wall on Monday called on Trudeau to suspend his plan, arguing that "if a small number of individuals who wish to do harm to our country are able to enter Canada as a result of a rushed refugee resettlement process, the results could be devastating."
While Trudeau has dismissed such concerns, some security experts suggest that trying to process that many refugees in such short time is not without risk, however slight, and that the prime minister doesn't need to rush the effort. …
The evidence, so far, that refugees pose risks in North America has been scant. A recent article in the Economist points out that of the 745,000 refugees resettled in the U.S. since Sept. 11, only two have been arrested on terrorism-related charges, and those had not planned any kind of attack. Meanwhile, Canada has taken in nearly 265,000 refugees from 2005 to 2014.
However, those refugees underwent a rigorous screening process, one that can take years.
The Racist Backlash to the Paris Attacks Is Helping the Islamic State
(Vice) Canadian politicians are voicing their opposition to the Liberals' plan of bringing Syrian refugees into the country, an opinion shared by tens of thousands of Canadians according to a series of petitions making the rounds online.
The reactions range from misguided and xenophobic to outright racist, but they are also exactly what the Islamic State wants.
"Even from a military intelligence perspective, if ISIS wanted to attack Canada it would be very, very hard for them to go through the refugee application process to do it. There's no guarantee they would end up in Canada or come here anytime soon," Hamdani [Ontario lawyer Hussein Hamdani, who is part of North American Spiritual Revival (NASR)] said, adding that events like the Paris attacks offer xenophobes an opportunity to express their views under the guise of national security.
On the flip side, would-be refugees who languish in Syria without asylum could become more susceptible to Islamic State recruiters.
12 November
Cabinet commits to 'quick and substantial help' for refugees but gives few details
Liberal plan to include 'quick and substantial help' to refugees, says Immigration Minister John McCallum
10 November
Syrian refugee plan goes to Liberal cabinet Thursday
No price tag attached to 'ambitious' goal of bringing in 25,000 people by year's end
30 October
Canadian Forces to draft plan to help resettle Syrian refugees
(Globe & Mail) The Canadian Armed Forces are scrambling to determine how many Syrian refugees could be temporarily accommodated at military bases as they draft plans to help the incoming Liberal government fulfill a campaign promise to bring 25,000 asylum seekers here by Jan. 1.
Ottawa is considering private airplanes to bring the refugees to Canada. Military aircraft are available, and the CC-150 Airbus Polaris could bring as many as 190 per flight, but Forces officials say it is hard to beat the cheaper, high-density seating of a chartered wide-body aircraft.
The Trudeau Liberals, meanwhile, are hoping to tap the wave of popular support that washed them into office to enlist more Canadians to sponsor Syrian refugees privately. This would help defray the cost to Ottawa of settling 25,000 newcomers.
Sources say the Liberals will call on mayors and other politicians in coming days to facilitate the arrival of refugees on their home turf after some prominent politicians pledged to sponsor Syrian refugees in early September.
29 October
Can the Liberals bring 25,000 Syrian refugees here by end of 2015?
John Geddes on Trudeau's risky refugee promise
(Maclean's) If Justin Trudeau's pledge to bring 25,000 Syrian and Iraqi refugees to Canada by the end of 2015 seems like a rash promise devised in the heat of an election fight, it wasn't. The Liberal leader, now the incoming prime minister, drew attention to that ambitious target in early September on the campaign trail. … It was the humanitarian counterbalance to his call for Canadian fighter jets to be withdrawn from their combat role, bombing Islamic State terrorists in Iraq and Syria.
The fact that Trudeau's policy aim wasn't merely an improvised response to the outpouring of sympathy for displaced Syrians after the death of little Alan Kurdi makes it even more puzzling to experts. Groups experienced with refugees tend to view ramping up the selection, transport and welcoming of that many newcomers in less than three months as extremely difficult, and maybe unwise. The promise now stands out among high-profile Liberal election promises as the hardest to fulfill on the timetable Trudeau set out during the campaign. In that respect, it's shaping up as the first tough test of his ability to deliver, or perhaps of the country's willingness to cut his new government some slack.
The pool of Syrians forced to flee the horrific war in their country is huge: more than four million, mainly now living in neighbouring Turkey, Jordan and Lebanon.[Scott] Heatherington [a former deputy director for the federal government's refugee and humanitarian programs] said the first step the new government must take is to secure co-operation to meet the more ambitious target from the already hard-pressed UNHCR and the International Organization for Migration. "There are a lot of logistic issues where you need help," Heatherington said. "You need to identify the people. You need to coordinate the selection on the ground. You need to do medicals. Security shouldn't trump everything else, but it is something you need to be concerned about; you want to make sure you select the vulnerable, not the persecutors."
10 October
The Racist Truth About Canadian Immigration
As many have noticed, the hoopla over Quebec's Values Charter is linked to immigration, and our reading of the tumult can be influenced by our knowledge of Canadian history, or lack thereof.
Following Confederation, the newly formed country of Canada began to develop its own national immigration policies. Between 1869 and the 1930s, Canada received over 100,000 orphans, juvenile delinquents, and unwanted persons from the British Isles. The open-door policy helped attract a more diverse group of arrivals than ever before, but not all the new immigrants were welcomed with warm embrace.
Until the 1960s, Canada chose its immigrants on the basis of their racial categorization rather than the individual merits of the applicant. Pierre Trudeau's government reformed the Immigration Act in 1976, which opened Canada's doors to the best and the brightest from the world over.
Over 500 Canadian academics condemn "politics of hate"
Canadian academics from every discipline banded together to condemned the "hate-mongering" that has taken place in the current election campaign.The 587 professors from across the country issued an open letter in which they said: "In democratic electoral politics there is an ethical line that distinguishes spirited partisan strategy from cynical tactics that betray the values of mutual respect and toleration that lie at the heart of civil democratic discourse."
The letter went on in part to say, "However, by injecting the inflammatory rhetoric of 'barbaric cultural practices' into the current campaign, the Conservative Party has flagrantly crossed the line. The repeated use of this phrase along with a proposed tip line to root out undesirables are cynically calculated to distract and divide citizens by insinuating that some law abiding and peaceful members of the community are freedom-hating barbarians who threaten Canadian society."
Zunera Ishaq, who challenged ban on niqab, takes citizenship oath wearing it
Teacher from Pakistan calls all the political heat on her 'sad' and 'disappointing'
On Monday, the Federal Court of Appeal paved the way for today's ceremony, dismissing a motion by the federal government to suspend a recent ruling that supported Ishaq's legal fight.
The federal government plans to appeal the decision to the Supreme Court of Canada, but the Appeal Court cleared the way for her to wear the face-covering veil during the swearing-in, in time to vote in the Oct. 19 general election.
Even so, right before Friday's ceremony, Ishaq showed her face to an official to confirm her identify.
Tories apply specific criteria for refugees
Canada is prioritizing some refugees based on characteristics that include their religion, the age of their children and whether they have a business background, using increasingly specific criteria over the past year. These criteria are used in a complex triage that attempts to put some groups at the front of the refugee assessment line, The Globe and Mail has learned.
Prime Minister's Office ordered halt to refugee processing
The Prime Minister's Office directed Canadian immigration officials to stop processing one of the most vulnerable classes of Syrian refugees this spring and declared that all UN-referred refugees would require approval from the Prime Minister, a decision that halted a critical aspect of Canada's response to a global crisis.
The Prime Minister's Office asked Citizenship and Immigration for the files of some Syrian refugees so they could be vetted by the PMO – potentially placing political staff with little training in refugee matters in the middle of an already complex process.
PMO staff could have also had access to files that are considered protected, because they contain personal information, including a refugee's health history and narrative of escape, raising questions about the privacy and security of that information and the basis on which it was being reviewed.
'Angry' expats to throw anti-Harper concert in New York City
Disenfranchised expat Canadians are organizing a "No Harper" concert in New York City to express their anger at losing the right to vote.
The aim, according to the self-described "fun-loving, recently disenfranchised, and now angry" Canadians, is to show people in Canada that they still care.
"Many people here don't have a way to participate in shaping the democracy that we grew up believing in," Marie-Marguerite Sabongui, one of the organizers, said from New York.
Sabongui, an activist who grew up in Montreal and moved to the U.S. in 2009 to pursue her graduate degree, said organizers hoped to attract at least 200-300 people to the $10-a-person event. Proceeds from the event are going to support a resource website.
The idea, the former Sauvé Scholar said, is to put on a fun evening with a serious message. The response has been "tremendous" so far, she said.
6 October
Robert Fisk – on Canada and dead right!
If Stephen Harper is serious about criminalising 'barbaric cultural practices', then he should arrest himself for even suggesting it
And while he's at it, he can lock up all the other Western leaders who have savaged the Muslim world too
Is Stephen Harper off his rocker? Forget his trip to Jerusalem last year when the Canadian prime minister said that criticism of Israel was a "mask" for anti-Semitism.
Ignore his utter failure to bring home to Canada al-Jazeera journalist Mohamed Fahmy, whose retrial was staged by the Egyptian government to give him the chance to leave for his country of adoption. Cast aside Harper's Blair-like contention that the Islamist murders of Canadian soldiers had nothing – absolutely zilch – to do with his decision to send Canada's F-18 jets against Isis.
Now Harper, the man with the choir-boy good looks whose pro-Israeli policies might win him a seat in the Knesset, is about to push a truly eccentric piece of legislation through parliament in Ottawa. It's called – and I urge readers to repeat the words lest they think it's already April Fool's Day – the "Zero Tolerance for Barbaric Cultural Practices Act" … What's odd about the "barbarism" he's thinking about  … is that these "practices" are already forbidden by Canadian law. … the catch is that this unique legislation …   doesn't come from Canada's perfectly capable minister of justice Peter MacKay, but from the Canadian minister of – you guessed it – Citizenship and Immigration. Now isn't that odd?  — 22 March 2015
Neil Macdonald: The barbaric cultural practice of election pronouncements
A steady throb of anti-Muslim sentiment appears to be running through the current campaign
Instead of economic issues and the timeless election slogan of jobs, jobs, jobs, the drumbeat today seems to be Muslims, Muslims, Muslims.
It's not quite that explicit, of course. Using that sort of language wouldn't be "politically correct," to borrow a Conservative attack phrase.
Rather, the language is more suggestive.
2 October
Canada's Conservatives vow to create 'barbaric cultural practices' hotline
Pledge comes on the heels of a surge in opinion polls based on a hardline stance against a woman donning her Muslim headwear during a citizenship ceremony
(The Guardian) Although widely supported by voters responding to polls, the Conservative's aggressive attack against a minority culture has drawn strong condemnation from opposition politicians and others. On Thursday, the Quebec provincial legislature adopted a motion condemning Islamophobia. Further west, the popular mayor of Calgary, Muslim immigrant Naheed Nenshi, attacked the Conservative initiatives as "unbelievably dangerous."
Hatley Report: Monday night's Munk Debate on foreign policy was everything we could have hoped for. The three main party leaders were mostly civilized, debated real issues concerning Canada's role in the world, and all showed a bit of passion. It left viewers with a clearer picture of where the Conservatives, the NDP, and the Liberals stand. Too bad it was only watched by 31,000 people online (the television viewership on CPAC is unknown).
The biggest brawl of the night came over Bill C-24. Passed by the Harper's Conservatives, the legislation allows the government to take away Canadian citizenship from dual-citizens convicted of treason, espionage or terrorism. The first person to be stripped of their citizenship was Zakaria Amara, the leader of the Toronto 18 bombing plot. This happened Friday, and nine more people are in the process of losing their citizenship. This week, it was reported that the Conservatives are looking at how they could revoke citizenship from Canadian-born terrorists as well.
Many are questioning the legality of such a move, and as the Prime Minister himself noted in a recent interview, "You can't render people stateless in international law."
1 October
Canadian-born Saad Gaya, convicted terrorist, targeted for revocation of citizenship
Government alleges that Gaya, born in Canada, retroactively became a Pakistani citizen
A convicted terrorist who was born and raised in Canada is asking a court to quash the federal government's attempt to strip him of his Canadian citizenship.
In an application to the Federal Court, Saad Gaya says revoking his Canadian citizenship would constitute "cruel and unusual treatment."
Gaya, who is serving an 18-year sentence for his role in the Toronto 18 bomb plot, is one of at least four men convicted of terrorism who have received notices from the government saying it intends to strip them of their citizenship.
But Gaya is the only one who was born in Canada.
The Conservatives' substantial changes to the Citizenship Act, which included expanding the grounds for the revocation of citizenship, came into effect in May. Under the newly revamped act, the government can strip the citizenship of dual nationals, but not if it renders them stateless.
30 Sepember
Robert Fisk weighs in
Niqab row: Canada's government challenges ruling Zunera Ishaq can wear veil while taking oath of citizenship
Stephen Harper's ruling Conservative party, prone to linking all things Islamic to 'security' fears, is going to the Supreme Court to stop the Pakistani-born teacher keeping her niqab on while receiving citizenship. Robert Fisk reports on a pre-election storm
… it seems inexplicable that Mr Harper – better known as an ardent supporter of the Israeli government than a defender of civil rights – should have responded to the appeals from Canadians to help Syrian refugees trekking into Europe by frittering away his time on a nonsensical case which could prevent a young mother from receiving the citizenship for which she has already qualified.
21 September
Journalist Robert Fisk on ISIL, the Syrian refugees and a changing Canada
(Montreal Gazette) On a seven-city speaking tour of Canada this week with Canadians for Justice and Peace in the Middle East, his talk, titled 'Goodbye, Mr. Sykes! Adieu, M. Picot!' How the ISIL 'caliphate' frightens the Middle East — and us', will focus on how the Syrian Civil War has destabilized the existing order in the Middle East.
"Now what strikes me is the smallness of Canadian politicians. Jason Kenney said "I do not mean to suggest for a moment that all or most of the people in camps are a security risk." But what's implicit is that it could be 50 per cent. So he's contaminating every refugee down to the smallest child. With Vietnamese boat people it was the fear of communist infiltrators. Now it's the fear of terrorist infiltrators.
Is this the best Canada can do? I don't want to be Bob from England pontificating. But what happened to the great people, the Churchills and Roosevelts? There's Angela Merkel. She's done the best any German has done to redeem Germany's dark history. Harper is more interested in messing about with a case with a niqab than in stepping forward with this country."
19 September
Conservative government aims to resettle 10,000 Syrian refugees by September 2016
Immigration Minister Chris Alexander announces $25M plan to deal with refugee crisis
(CBC) Immigration Minister Chris Alexander said the new measures mean the 10,000 Syrian refugees the government previously promised to resettle in the next three years would instead be brought to Canada by September 2016 — "a full 15 months earlier than anticipated," he told reporters in the Toronto suburb of Scarborough.
Syrians and Iraqis fleeing civil war and sectarian conflict will no longer have to prove they are convention refugees under the United Nations Refugee Agency, but will be presumed to be refugees by Canadian authorities for the purposes of vetting their applications. … Alexander also said the government would deploy additional officers to missions abroad and that applications from Syrians and Iraqis will be handled within six months of being filed.
Harper makes campaign appeal to new Canadians with promise of 'Maple Leaf' award
The Conservatives are continuing their campaign efforts to shore up electoral support among new Canadians with the announcement of a new award for people who foster links between Canada and their country of origin.
14 September
Ron Atkey – Syrian refugees: Are they really a threat to Canadian security?
Half of the Syrian refugees in the camps in Jordan, Lebanon and Turkey – the obvious geographical area for Canadian rescue efforts – are children. Half of the rest are women.
I led the Indochinese refugee program in 1979-80, when the Canadian government worked with private sponsors to bring 60,000 Vietnamese "boat people" to this country in 18 months. We had security concerns in 1979, as well. The public was concerned that some of the newcomers might be communists in disguise, planted by the communist government of Vietnam to infiltrate Canada. Or they might have been serious criminals being exported to get rid of them. None of this materialized.
Security concerns are now bogging down the bureaucratic requirements. In 1979, under the special program that then existed, there were two pages. Today's instructions to refugee sponsors run to 64 pages – and represent a significant challenge. In 1979-80, sponsors were told it was a three- to four-month wait. Today it's three to four years. This red tape can be dispensed with temporarily under a special program that existed in 1979 for the Indochinese refugees. It could be re-created today for Syrian refugees.
Roméo Dallaire says Canada could take 90,000 Syrian refugees
Syrians would be 'an incredible asset' to Canada, says former UN commander and retired senator
Dallaire told CBC's Power & Politics that Syria was a well-educated, middle class society and its citizens would make a contribution to Canada.
"They will be an incredible asset, as the Vietnamese were and the Hungarians," he said. "And if you want to talk 80,000 to 90,000, we can handle that capacity." … Dallaire expressed concern that the issue of security was now becoming a "smokescreen" to do nothing. He said Canada has already taken in more than 20,000 Iraqis, and said, "I don't remember people falling all over each other about security. And all of a sudden because they are Syrians — security has become a dominant [theme]?"
12 September
Government creates emergency relief fund to aid Syrian crisis victims
Fund will match donations from Canadians up to $100M to provide for basic needs
The fund will assist conflict-affected people in Syria and neighbouring countries. Paradis told reporters the fund will be used to provide basic needs such as food, clothing and healthcare.
He said the government will match funds donated to registered Canadian charities, adding that this is "an opportunity to put a vehicle where Canadians will be able to channel their generosity."
Tories set to revamp Syrian refugee response in wake of criticism, Kenney says
Airlift of refugees would be 'terribly imprudent,' Conservatives say
10 September
Stephen Harper suggests Canada will do more to help Syrian refugees
10,000 refugee pledge Tories made last month would add to earlier commitment to resettle 11,300
The government is expected to look at what targets can be reasonably achieved and how much of the process can be sped up by adding resources. That may also include lifting the requirement that refugees be privately sponsored and have proof of refugee status from the United Nations High Commissioner for Refugees or a foreign state.
9 September
Government red tape a barrier to Canadians' plans to assist refugees
A fast-spreading movement of local and provincial governments, community groups and individuals trying to raise money to sponsor Syrian refugees to come to Canada is up against what appears to be largely a business-as-usual federal system.
The federal government's approach to a migrant crisis now gripping Europe is based on a time-consuming model in which refugees need to be screened individually by the United Nations High Commissioner for Refugees and heavily burdened Canadian visa offices in the Middle East. Just over 1,000 Syrian refugees, of the four million who have left their country during its civil war, have been brought to Canada this year.
Refugee crisis: Stephen Harper rejects proposed meeting with political rivals
'Canadians want us to respond. That's what we are doing,' Tory leader told supporters in Toronto
"We're not going to get into partisan games on this," said Harper during a campaign stop in Toronto Monday afternoon.
"I already made announcements before these headlines that the government of Canada intends to bring in many more refugees from this area," he added, referring to an election commitment to resettle 10,000 more refugees from the Middle East. That number is in addition to the 10,000 his government previously promised in January.
Quebec triples number of Syrian refugee sponsorships ; Cities, provinces make their pitch to help refugees
Three mistakes we keep repeating when it comes to refugees
1. "We distrust the people we're rescuing"
2. "We wait until something awful happens"
3. "We think it will never end"
(Globe and Mail) We think of ourselves as a haven for refugees, but Canada has consistently floundered in offering help
The refugees had piled up in camps by the hundreds of thousands, had often made perilous crossings with sometimes tragic outcomes, and had become the subject of enormous public concern, before Ottawa even thought to help them in any significant way.
That's because the refugees, despite being hailed by the public as freedom fighters who had resisted a cruel regime Canada had also opposed, were fundamentally not trusted by some senior figures: Their ethnicity and religion led to official fears that some of them would be extremists. And also because we believed, falsely, that taking in tens of thousands of them in their moment of need would launch a never-ending flood of alien outsiders who could not be integrated into Canadian society.
That describes the Hungarian refugee crisis of 1956. It describes the Vietnamese refugee crisis of 1979. And it describes the Harper government's paltry and heartbreakingly late response to the Syrian refugee crisis of 2014 and 2015.
6 September
Justin Trudeau calls for all-party summit on refugee crisis
Worldwide shock over photo of drowned Syrian toddler prompts Liberal leader to urge non-partisan approach to crisis.
(Toronto Star) At a campaign stop Sunday in Laval, Que., Trudeau told reporters the Liberals were reaching out to NDP Leader Thomas Mulcair and Conservative Leader Stephen Harper in the hope of depoliticizing the debate about the humanitarian disaster unfolding in the Middle East. … The chances of all three major party leaders agreeing to the sit-down appeared slim on Sunday. Asked whether Harper would consent to the meeting, Conservative spokesman Stephen Lecce didn't answer the question directly. … The response from the NDP suggested Mulcair wouldn't participate in a meeting unless Harper was there. (More on CBC)
5 September
Candidates on the Syrian refugee crisis
(CBC The House) Immigration Minister and Conservative candidate Chris Alexander discusses why the military component of Canada's involvement in Syria is critical, then NDP candidate Paul Dewar and Liberal candidate Marc Garneau respond. (audio)
Conservative rule overhaul blamed for Syrian refugee backlog
(Ottawa Citizen) The refugee groups say they have repeatedly called on Immigration Minister Chris Alexander and the government to exempt Syrians from the rule — which says the UN High Commission for Refugees (UNHCR) or another country must first designate a person as a refugee before immigration officials will consider letting them be privately sponsored to come to Canada.
But they say their requests have been ignored.
Then-immigration minister Jason Kenney implemented the new rule in October 2012 as part of a broader Conservative government overhaul of Canada's refugee system.
It only applies to those refugees being sponsored by groups of five or more Canadians, called G5s. It does not apply to so-called sponsorship agreement holders, which are large organizations like churches and community associations that have a long history of privately sponsoring refugees to come to Canada.
3 September
Glavin: Little Alan Kurdi, and the one photograph that mattered
(Ottawa Citizen) … simple stories like these almost always prove to be complicated, and there is nothing quite so complicated, and at the same time straightforward, as the reasons why a fair assessment would find that there was probably little if anything Alexander could have done for the Kurdi families. The villainy, if that it what is, is to be found mostly in Turkey's exemption from certain provisions of the 1951 Refugee Convention. The United Nations High Commissioner on Refugees does not register asylum seekers in Turkey. Turkey does not issue exit visas to refugees who do not possess referrals from the UNHCR. In Turkey, there are no "refugee camps." There are Turkish "temporary protection shelters." The Kurdis had no papers, no UNHCR refugee designations, and no passports, and therefore did not qualify for exit visas.
That is why the Kurdis' plans to obtain G5 refugee-resettlement approvals from Citizenship and Immigration Canada were doomed from the start. …
Canada began attempts to resolve the incongruities two years ago, when there were 200,000 Syrian refugees in Turkey – there are now roughly two million – and the Syrian war had claimed 90,000 lives – the death toll is now nearly three times that high – and 925,000 Syrians had fled their country.
Family of drowned boy did not apply for asylum: Ottawa
(Globe & Mail) Government officials say that the Syrian family whose young children drowned off the coast of Turkey didn't formally apply for asylum and that an application was made instead for another relative.
Mr. Kurdi's sister, Tima, lives in British Columbia and had said she petitioned Immigration Minister Chris Alexander to accept her relatives.
Citizenship and Immigration Canada said in a statement Thursday afternoon that the department had handled an application for another Kurdi brother, Mohammad, not for Abdullah and his family.
"An application for Mr. Mohammad Kurdi and his family was received by the department but was returned as it was incomplete as it did not meet regulatory requirements for proof of refugee status recognition," the statement said. "There was no record of an application received for Mr Abdullah Kurdi and his family."

Mark MacKinnon: Boy on the beach reminds us that the migrant crisis is also Canada's crisis
(Globe & Mail)  While the Conservative government has said it plans to take in 20,000 refugees from Syria this year, government figures show that only 1,002 Syrian refugees had arrived in Canada as of late July.
Every crisis has a face that sticks in the mind when the mind-numbing numbers don't, from the naked girl fleeing a napalm attack who changed minds about the Vietnam War, to the blue-eyed girl who made the world care about Afghanistan in the 1980s.
In death, Aylan Kurdi has become the face of the unfolding refugee catastrophe stretching from the Middle East to Calais.
The tale of the boy in the red T-shirt is also a reminder that this moral crisis – and responsibility for this tragic failure to respond – is not just Europe's, but Canada's, too.
'They died in my arms': Father of drowned migrant boy speaks out
The father of the little boy whose tragic death – washed ashore on a Turkish beach after drowning during a desperate attempt to reach the safety of Europe – has shocked Canada and the world into reconsidering their approach to the growing refugee crisis says his family died after a people smuggler gave them fake life jackets for their journey across the choppy waters of the Aegean Sea.
I know it is totally unrealistic, but would it not be wonderful if the leaders of all the opposition parties were to offer their collaboration in working out a coherent and immediately executable interim plan to accelerate the admission of refugees. In the face of the crisis, this should not be a partisan issue or opportunity to score points in the campaign. Was impressed with Tom Mulcair's measured and compassionate reaction. Not impressed with Justin Trudeau's snarky comment, "You don't get to suddenly discover compassion in the middle of an election campaign."


A pretty good summary
Chris Alexander suspends re-election campaign in wake of refugee crisis
Harper's Conservative government under fire for not accepting more Syrian refugees
(CBC) Conservative candidate Chris Alexander has suspended his campaign for re-election in the riding of Ajax, Ont., in the wake of the Syrian refugee crisis.
— Drowned Syrian boy's family was reportedly trying to get to Canada
— Chris Alexander defends Canada's refugee response, blames media for ignoring crisis
— Refugee crisis: Canada must do more, Harper's policies have failed, rivals say
Alexander cancelled a Thursday morning media appearance and is returning to Ottawa to focus on his ministerial responsibilities. They include looking into a case brought to the forefront Wednesday after disturbing images emerged showing a Syrian toddler's body washed up on a beach in Turkey.
B.C. relatives of the boy said they had applied to bring his family to Canada as refugees, but their bid reportedly had been rejected. The boy's family had been trying to flee to Europe by boat before his body was found.
New Democrat Fin Donnelly, acting in his capacity as MP, said he brought the B.C. family's case to Alexander's attention earlier this year. It was later rejected.
Alexander, a former diplomat, was first elected in 2011. He became Stephen Harper's immigration minister in 2013.
During a Wednesday panel appearance on CBC News Network's Power & Politics, he defended the Harper government's response to the Syrian refugee crisis, and said the media had failed to "put it in the headlines where it deserves to be."
2 September
Chris Alexander Just Got Put In His Place By CBC's Rosemary Barton
(CBC) The discussion focused on the ongoing conflict in Syria and whether or not Canada will step up its involvement in the crisis after "horrific" photos of a drowned migrant boy were published by media earlier in the day. Alexander, the Conservative candidate for Ajax, responded to the question by saying the migrant death toll numbers "have been growing for years." …
Wednesday's clash of facts comes more than a year after Alexander hung up on CBC Radio host Carol Off after a conversation about immigration reforms. In that As It Happens interview, the incumbent Conservative MP also did not give clear answers.
10 August
Donald Sutherland: I'm Canadian – and I should have a right to vote
(Globe & Mail) My name is Donald Sutherland. My wife's name is Francine Racette. We are Canadians. We each hold one passport. A Canadian passport. That's it. They ask me at the border why I don't take American citizenship. I could still be Canadian, they say. You could have dual citizenship. But I say no, I'm not dual anything. I'm Canadian. …
We live in Canada all the time we can. Our family house is here. Professionally, I still have to think twice when I say "out" or "house." I have to restrain myself from saying "eh?". In 1978, that's nearly 40 years ago, the Canadian government made me an Officer of the Order of Canada. The Governor-General gave me the Governor-General's Award a while back. I am on your Walk of Fame in Toronto. My sense of humour is Canadian. But I can't vote.
Did you know that? If you don't live here all the time you can't vote.
23 July
Tories' Overhaul Of Refugee System Suffers New Blow From Federal Court
(Canadian Press) The charter rights of refugee applicants are being violated by a process that marginalizes, prejudices and stereotypes them based on where they are from, the Federal Court ruled Thursday in another blow to the Conservative government's overhaul of the refugee system.
By denying applicants from designated countries of origin the right to appeal when their claims are rejected, the government violates equality rights enshrined in the charter, Justice Keith Boswell said.
"The distinction drawn between the procedural advantage now accorded to non-DCO refugee claimants and the disadvantage suffered by DCO refugee claimants under (the policy) is discriminatory on its face," Boswell wrote.
"It also serves to further marginalize, prejudice, and stereotype refugee claimants from DCO countries which are generally considered safe and 'non-refugee producing."'
11 July
How has Canada fared on resettling Syrian refugees?
Where does Canada stand on its 10,000-refugee promise? The answer will cost you
(Maclean's) I … filed a request asking how many Syrian and Iraqi refugees have arrived in Canada since January, how many are privately sponsored, and how many came with government assistance.
Today I received a letter from CIC's Access to Information and Privacy Division, informing me that the information I sought is excluded from the act because it concerned "published material or material available for purchase by the public." … That's right: I could buy my answer. The attached regulation informed me that the cost of processing my application for data would be $100 for the first 10 minutes or less of access to the department's database, plus $30 for each additional minute or less of access.
12 June
Newly-instated Bill C-24 puts citizenship for some Canadian-born residents at risk
(Yahoo! News) It was 800 years ago this week that an unpopular king sat down with England's barons to draft up the Magna Carta. For just as long, that document has served as the backbone of democracy, informing Canada and many countries in the Commonwealth's most important rights and freedoms.
So it's with some degree of irony, says Josh Paterson, executive director of the B.C. Civil Liberties Association, that the federal government's controversial Bill C-24 – which gives the government expanded rights to revoke citizenship – also came into full effect this week.
"It's a huge step back," Paterson said to Yahoo Canada. "England, 800 years ago, banned exile and eight centuries later, here we are bringing it back.
Paterson is referring specifically to the revocation elements of the new bill, which gives the government discretion to strip the citizenship of anyone convicted of terrorism or treason – provided they have or are eligible dual citizenship. Although the bill – referred to by the federal government as the Strengthening Citizenship Act – was tabled last February, it didn't go into full effect until this week.
11 June
Another Chris Alexander Heritage Minute
The Immigration Minister makes up some random fake history. Paul Wells corrects the record.
(Maclean's)So. The Liberals were racists, and before Laurier and King, there were "no laws" that "limited immigration" on an "ethnic basis." So says Canada's minister of Immigration, an Oxonian who speaks good Russian and whose major at McGill was history. …
There was much in King's record, especially, of which no Canadian can be proud. John Diefenbaker did a lot to set things right when he came to power. Joe Clark welcomed the Vietnamese boat people, and on and on. I've never been a fan of political discourse of the "we believe in light, and you are agents of darkness" variety. John McCallum tried that today and it was tiresome. But Chris Alexander, speaking with the authority of his ministerial office, delivered a delusional and culpably misleading capsule history of Canadian immigration policy. As if he takes Canadians for fools. He's one of the least impressive ministers in an increasingly weak government bench.
21 May 2015
Citizenship Act will create two classes of Canadians
Michael Adams is president of the Environics Institute; Audrey Macklin is a professor in the Faculty of Law at the University of Toronto; Ratna Omidvar is president of the Maytree Foundation
(Globe & Mail) The federal government argues that its proposed new Citizenship Act will "protect the value of citizenship." We are concerned that it may have the opposite effect: making Canadian citizenship harder to get and easier to lose, and creating second-class citizens along the way.
The government is introducing stricter residency requirements, increasing the required period of permanent residency to four years from three. At first glance, this may not seem like a major change. But this is in addition to processing delays that stretch from one to three years. …
citizenship tends to promote engagement and contribution. Research indicates that the sooner people get citizenship, the sooner and more fully they invest themselves in their new society.
In addition to making citizenship more difficult to obtain, Bill C-24 will make it easier to lose. The Act grants the federal minister of immigration authority to revoke the citizenship of those found guilty of major crimes, including terrorism. … The question is, is the revocation of citizenship the right tool for preventing terrorism or punishing criminals?
Today, citizens (including foreign-born and dual citizens) are equal before the law and are treated the same way as other Canadians if they are accused of a crime. They undergo due process and, if convicted, are punished according to the provisions of the Criminal Code of Canada. If their crimes are committed abroad, the procedures are different but their treatment by the Canadian government is identical.
Adding citizenship revocation as an extra prospective punishment for dual citizens (many of whom, but not all, are foreign-born) is tantamount to creating a second class of citizenship. This is a change that cuts to the core of what it means to be Canadian – and in order to solve what problem?
20 February

Salim Mansur: Defending the niqab ban
The relevant point here is that certain practices — such as bigamy or child marriage, concubinage, female genital mutilation, etc. — even when permitted by a religion, need to be distinguished from religious belief as customary practices. In making this appropriate distinction, the Indian courts have ruled, with the Supreme Court in agreement, that what is protected under Article 25 is religious belief, not practices that may run counter to public order, health or morality.
This ruling of the Indian Supreme Court is instructive. India shares with Canada the system of government and democratic traditions handed down from Britain. India is also the world's third-largest Muslim country after Indonesia and Pakistan. In ruling that bigamy and polygamy are in violation of India's laws, the courts have defended the rights of women, especially Muslim women, in terms of equality rights, and against Muslim Shariah-based laws that discriminate against them in favour of men.
Canadian courts would be well advised to make a similar and appropriate distinction between religious beliefs and customary practices, and whether any or all customs should be protected under the Charter provision of religious freedom.
Feb 18
Clifford Orwin: Stephen Harper's veiled attack on religious freedom
(Globe & Mail op-ed) Stephen Harper is not just smart; he can be highly insightful. In 2011, for example, he established the Office of Religious Freedom in the Department of Foreign Affairs. He thus showed himself ahead of the curve on an issue whose importance has continued to grow. In that same year, unfortunately, his then minister of immigration, Jason Kenney, announced a domestic rule tending to religious suppression. Last week that ruling returned to haunt Mr. Harper.
2014
Why Canada needs a flood of immigrants
Between now and 2021, a million jobs are expected to go unfilled across Canada. Ottawa is making reforms to the immigration system but isn't going far enough. We need to radically boost immigration numbers. With the right people, Canada can be an innovative world power. Without them, we'll drain away our potential. (4 May 2012)
More on The Immigrant Answer
Changes to immigration policy will affect nearly all aspects of Canadian life
The Canadian immigration landscape is shifting beneath our feet. When the dust settles, where will Canada be?
Some of the proposed changes, such as dealing with the backlog, are long overdue. Other changes may also be necessary. They will nevertheless have a series of unintended consequences for the makeup of Canada's immigrant population and its ethnic diversity. It is these consequences that we should be concerned about.
Recently, the Minister of Citizenship and Immigration has spoken highly of the Australian immigration model with its strict language requirements. High levels of language proficiency are a requirement in our labour market. But raising the bar on language competency may trigger an increase in immigration from English-speaking countries – Britain, the United States, Australia and New Zealand – at the cost of immigrants from emerging economic superpowers such as China, India, Russia and Brazil.
Add to this administrative changes such as the closing of visa offices in Bangladesh, Iran and elsewhere and we will begin to see a shift in source countries. Recent media reports show that the numbers of immigrants applying for permanent residence from China, India, the Philippines and Pakistan fell drastically in 2011 – perhaps in response to changes made to our immigrant selection system in the last year.
What implications will these changes have for Canada's future? One unintended consequence relates to the success of second-generation immigrants. Research shows that the children of immigrants have higher rates of postsecondary education than those of non-immigrant Canadians. What's more, those born to parents from Africa, China and other Asian countries attend university and college at far higher rates than both non-immigrant Canadians and those born to immigrants from anglosphere countries. (8 May 2012)
Canada must prepare for flood of climate migrants
A new study co-authored by Simon Fraser University researchers recommends that the federal government create a new immigration class of "climate migrants" to help address the mounting global human displacement associated with climate change.
In "Preparing BC for Climate Migration," the authors also recommend Canada implement immigration targets and programs to ensure the country absorbs its fair share of those migrants.
Released by the Canadian Centre for Policy Alternatives (CCPA) in November, the study reviews Canada's current immigration policies to determine how they could be better re-engineered, especially in B.C., to help climate migrants.
They are the tens of thousands of people globally, who, since the new millennium, have been displaced from their homes due to climate change-driven natural disasters, such as the 2013 typhoon in the Philippines.
21 November
Express entry immigration system starts Jan. 1, leaving employers uncertain
Only 'highest ranking candidates' will be asked to apply
The federal government's consultations on a new immigration system to give skilled workers "express entry" into Canada starting Jan. 1 included a nine-member group representing some of Canada's biggest employers — and at least two of those groups say they are taking a wait-and-see approach on the new system.
Under the new online express entry system, skilled immigrants will be matched with vacant jobs in at least 50 occupations based on "scores that reflect their human capital and ability to succeed in the Canadian economy."
Only the "highest ranking candidates" will be invited to apply for permanent residency and applications will be processed in six months or less.
17 November
Canada's immigration policies hurt bottom line, China says – Chinese companies could hire Canadians?
China's state-controlled energy firms are struggling to turn a profit in Canada in part because of the federal government's immigration laws, a senior Chinese diplomat says.
(BNN) Wang Xinping, China's consul general based in Calgary, said his country's energy companies want to bring in their own employees to reduce costs. But Ottawa has been stingy in issuing work permits, he said, making it harder for Chinese companies to develop their projects.
"Overall, for the Chinese investors, they are not making a profit," he said in an interview at the Chinese consulate.
China sank $30-billion into Canada's energy sector between 2005 and 2012 snapping up assets. Wang concedes some of these projects are not as good as Sinopec Corp. (SHI.N -1.19%), CNOOC Ltd. (CEO.N -1.55%), and PetroChina Co. Ltd. (PTR.N), once believed. With oil prices down 30 percent since June, the companies want Ottawa to open the borders to help ease its troubles.
"It is very, very, difficult to get the necessary work permits for the operation and the running management of the Chinese enterprises invested here," Wang said. Alberta's market for technical experts like engineers and mid-level managers "is so expensive," he said, "and that adds to the financial burden of the companies."
New approach may be better than Temporary Foreign Workers
Temporary Foreign Worker Program Cancelled
(Lexology) The Temporary Foreign Worker program was a popular program with employers in Canada. For some employers, it was favoured because it delivered a large number of low cost motivated employees on an expedited basis. This was the positive aspect of the program. Unfortunately, the program was also well-liked for less than admirable reasons.
The Temporary Foreign Worker program suffered from a fatal flaw found in human nature. Greed led too many employers to abuse foreign workers, simply because it was easy to do so and it made some employers a lot of money. The abuses have been well documented by the media and there is no need to recite the abuses in this column.
The good news is that the Government of Canada has taken steps to ensure that employers in Canada continue to have access to skilled and unskilled employees at the same level of supply as was available prior to the termination of the Temporary Foreign Workers program.
7 November
Conservative 'barbaric practices' bill panders to fear of immigrants: Walkom
Immigration Minister Chris Alexander's new bill is largely useless. Canada already has laws against polygamy and murder
(Toronto Star) Immigration Minister Chris Alexander's bizarre declaration of war against "barbaric cultural practices" is both deliberate and unnecessary.
It is deliberate in that it panders to those who fear that foreigners — particularly Muslims – threaten the fabric of Canadian society.
It is unnecessary in that most of the practices it hopes to curb, including polygamy and so-called honour killings, are already illegal in this country.
Indeed, the Conservative government's proposed Zero Tolerance for Barbaric Cultural Practices Act (yes, that is its formal name) is reminiscent of a bylaw banning polygamy and the stoning of women that was enacted in 2007 by the Quebec village of Hérouxville.
>At the time, Hérouxville was not overrun by murderously polygamous immigrants. In fact, it contained no immigrants at all. The village council just wanted to make a point — about foreigners, immigrants and especially Muslims.
So, too, it seems, does Prime Minister Stephen Harper's federal Conservative government.
Bill S-7 does contain some reasonable elements.
One would explicitly outlaw forced marriages. Another would clarify the general provincial practice that sets 16 as the minimum age for marriage. A third would make it illegal to transport a child under 16 abroad for the purpose of marriage.
31 October
Canada to open the door wider to 'higher calibre' immigrants
The Conservative government plans to increase immigration levels significantly as it heads into an election year in 2015.
Citizenship and Immigration Minister Chris Alexander said on Friday that Canada aims to welcome as many as 285,000 new permanent residents next year, which is the highest planned total "in recent history," according to the Minister.
The last time Canada admitted as many as 280,000 permanent residents was in 2010. A greater proportion, nearly 65 per cent of all admissions, will be economic immigrants and their dependents. That's up from a target of 62 per cent in the planning for 2013 levels. Mr. Alexander said the goal reflects the government's view that immigration is crucial to Canada's economic prosperity.
24 October
Federal omnibus bill restricts refugee access to social assistance
Buried in the Harper government's latest massive, omnibus budget bill is legislation that could restrict the ability of refugee claimants to access social assistance.
The move follows the government's decision to limit refugee claimants' access to universal, public health care.
That measure was struck down by Federal Court Judge Anne Mactavish, who said it constitutes "cruel and unusual" treatment, puts lives at risk and "outrages Canadian standards of decency."
15 August
Temporary Foreign Worker Program misuse sanctioned by Harper government, union says
(CBC) Alberta labour group says government allowed firms to pay foreign workers less to help drive down wages
11 August
You Might Think Canada Is Doing its Best to Help Refugees, But You'd Be Wrong
There are more than 50 million refugees around the world.
Surveys suggest that most Canadians believe we, and our government, are doing our best to help them. But a recent study of people working to resettle refugees suggests that these Canadians would be deceived.
In 2013, just over 12,000 refugees were accepted into Canada. Of these people, 6,623 were sponsored by private groups who assisted their resettlement in Canada. Many privately-sponsored refugees were assisted by faith groups, but community or ethnic organizations, and even individuals can also play this role. The federal government supports the remainder.
There are currently 85 Sponsorship Agreement Holder (SAH) groups (72 per cent of these being church-connected groups) that have signed accords with Citizenship and Immigration Canada (CIC). These groups are able to submit sponsorship applications to the government in return for guaranteeing thousands of dollars for refugee accommodation, furniture, groceries and other supports. Since this system started in 1978 with the arrival of thousands of "Boat People" fleeing the violence in Indochina, over 200,000 refugees have been assisted to resettle in Canada by private organizations and individuals.
28 July
Sponsored Spouses See Growing Wait Times For Processing
What was previously a roughly six month processing time for spousal sponsorship applications from within Canada has almost doubled to 11 months. The processing time for couples outside the country varies depending on the consulate to which they apply, but wait times of two years are common. For applicants who apply to the Canadian consulate in Islamabad, Pakistan, the wait times can exceed 32 months.
While couples who apply while one partner is outside of Canada are forced to endure long periods of time apart while awaiting a decision from CIC, couples who apply using the inland route face a host of other issues.
11 July
Jason Kenney to get an earful from provinces who need low-skilled workers
But Kenney wants to discuss the need for greater harmonization of apprenticeship systems
(CBC) When Employment Minister Jason Kenney meets with provincial and territorial labour ministers in Charlottetown today he will want to discuss the need for greater harmonization of apprenticeship systems, but his counterparts will try to convince him to scale back recent changes to the Temporary Foreign Worker Program.
20 June
Cap on low-wage temporary workers to be phased in over 2 years
(CBC) Employment Minister Jason Kenney and Immigration Minister Chris Alexander have announced an overhaul of the Temporary Foreign Worker Program, effectively conceding there has been growing abuse of the program and a driving down of wages.
The moratorium on the fast-food industry's access to the program is lifted immediately in light of the sweeping changes announced Friday.
The revamped program will bar employers from hiring foreign workers in regions where unemployment is high, it will put a cap on the number of workers employers can hire, include a more stringent screening process for employers to prove they need to hire a foreign worker over a Canadian one, and increase the number of spot checks in the workplace and fines for those who break the rules.
The Temporary Foreign Worker Program will now be divided into two programs: One — still called the TFWP — will require that employers prove the need to hire a non-Canadian worker. The other, to be called the International Mobility Program, won't.
12 May
Canada's immigration system undergoing quiet, ugly revolution
Ottawa has quietly made massive changes to our immigration policy as if those changes have nothing to do with the kind of society Canadians want to build for the future.
(Toronto Star) Canadians are rightly upset about recent scandals involving the temporary foreign workers program. But let's not fool ourselves: this program and its mismanagement are only part of a massive and stealthy reform to a system that may or may not need fixing.
Researchers at Ryerson University, in partnership with the prestigious Migration Policy Group, are updating the Migration Policy Effectiveness Index (MIPEX) for Canada. MIPEX compares and rates countries based on their immigration policies. Canada placed among the top three in 2011, but the Ryerson team was shocked by their discoveries about what has been happening since then.
Canada's once path-breaking immigration policies are being transformed into a system that mainly serves employers, treating immigrants not as future citizens or members of Canadian communities and families but merely as convenient or cheap labour. This is a clear shift from previous policy.
Following the immigration act of 1967, Canada began selecting immigrants on the basis of characteristics such as education, work experience and proficiency in English or French. The points system made immigrant selection transparent, and it overcame the racism that had heretofore dominated the system. The point system's blend of pragmatism and equity has gained the respect of other countries; more than a few are considering it as a model for their own immigration policies.
If the current government has its way, the points system will be gone from Canada by 2015 and replaced with "Express Entry," which is essentially a job bank serving government and industry, matching prospective immigrants with employers seeking workers. According to Citizenship and Immigration Canada, the program will select "the best candidates . . . rather than the first person in line." Ironically, the same government accuses refugees of being "queue jumpers" and denies status to people most in need of Canada's protection.
29 April
The alarming new blueprint for Canadian citizenship and immigration policy
Important changes to Canadian citizenship and immigration policy have broken into the headlines of late, from the introduction of the Strengthening Canadian Citizenship Act to serious abuses of the controversial temporary foreign worker program to refugee determination concerns.
One can think of the changes underway as renovations to what former Immigration Minister Jason Kenney liked to describe as the "house" of the Canadian nation.
Showing how seemingly disconnected floors and rooms of the "house" are related reveals a troubling blueprint of change — a renovation that will overhaul the very architecture of rights and membership in Canada.
Kenny's analogy is instructive in understanding the nature of the changes underway.
The existing model of citizenship can be understood as a house inhabited by citizens and permanent residents. They share basic rights, at least on paper, but citizens have nicer rooms and permanent residents must first live in designated areas that act like a waiting room before acquiring full citizenship. Most immigrants to Canada enter the house as permanent residents, going directly into the waiting room.
In contrast, temporary residents occupy a makeshift holding area, a mud room attached to the house. This mud room wasn't considered a problem as long as it was small and people either left it after a while or were able to get a foot into the main house by applying at the front door or via a narrow pathway for live-in domestic workers.
This model, however, is now being replaced. The house now has a narrower doorway to citizenship, a more difficult passage for direct entry into permanent residence, and a larger yet more crowded mud room for temporary residents. …
The new Citizenship Act will make it more difficult to become a citizen.
It will take longer because the Act increases the length of the residency requirement, and time spent as a temporary resident will no longer count. Changes also include more stringent language requirements and higher fees. Finally, it also establishes Ministerial discretion to revoke, deny, and grant citizenship under specified conditions.